---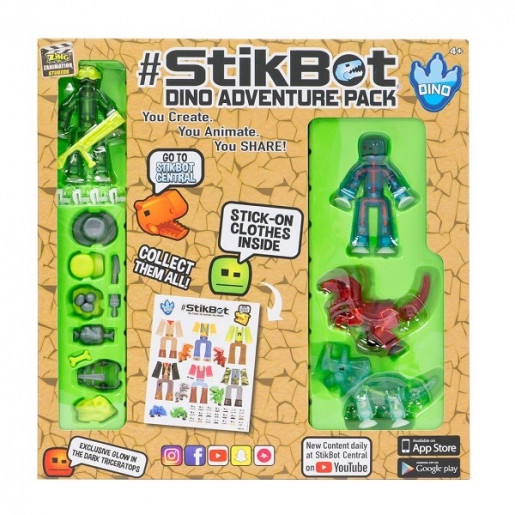 Zing Stikbot Dino Adventures
---
Stikbots are back with the latest in stop motion film tools. The STikbot Dino Adventure Pack includes all the essentials to bring the prehistoric dinosaur back to life!
Simply pose them for a photo or download the free mobile app, Zing studio for IOS and Android, and begin sharing your creations with #STIKBOT
Product details:
Sticky Dino's whom will adhere to almost any smooth surface.
Stick them to table tops and computer screens. Hang them from cups and drinking glasses.
Help them climb bathroom tiles and car windows. They will go almost anywhere!
Stikbot Dino's also like to act. Download a free stop motion animation app for your smart phone or ipad from the app store and get to work!
Suitable for ages 4 & up
It is easy to do, is good fun and the animations are easy to share.
Set Includes:
2 Stikbot Figurines with accessories
1 Stikbot Dino's and (one EXCLUSIVE glow in the dark Triceratops)
Stick on clothes inside so you can accessorise and have fun!